MSA INDEX graph of Raff Angus steers - FULL BROTHERS TO SALE BULLS -
MORE FAT, MORE MARBLING, HEAVIER CARCASS WEIGHT, $185/hd more profit per carcass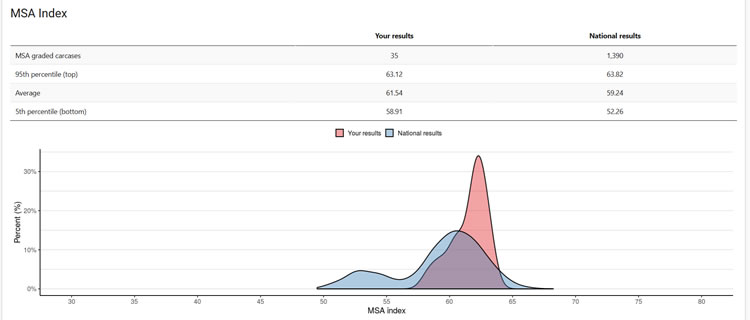 This MSA Index graph highlights where Raff Angus sits nationally with its genetics. It reflects all steers processed nationwide on that day (13/07/20) and sorted for direct comparison with an ossification of less than 230, are grass fed only with no HGP.
These twenty-one month old spring born steers are brothers to our September 21st sale bulls. Their MSA Index was higher, they have more fat, more marbling with a heavier carcass weight.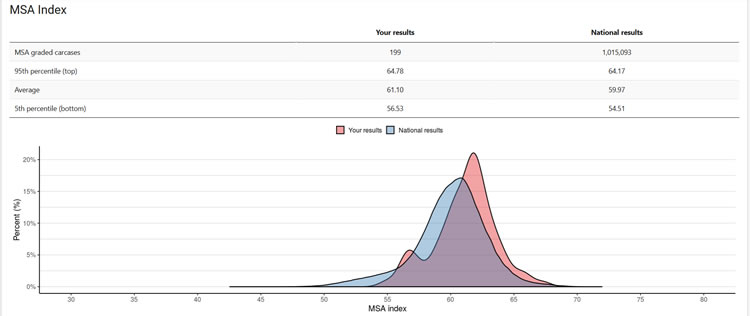 In the past 12 months Raff Angus have processed 211 fully pedigree recorded prime yearling steers and heifers with an ossification score of less than 230. These Raff carcasses yielded a higher MSA Index, with more fat coverage and more marbling when compared nationally. Furthermore these Raff Angus animals boasted a 84 kilogram heavier carcass. Adjusting to age similarities and at current market values of past 12 months at $6/kg dressed weight these Raff Angus genetics have added $300/head extra profit.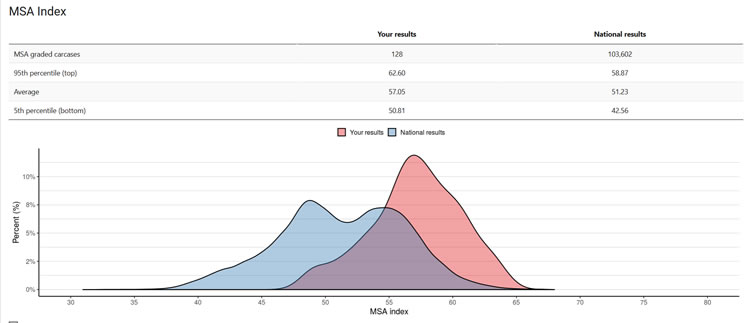 In the past 12 months Raff Angus have processed 128 pedigree and performance recorded cows. This graphs highlights that Raff genetics again perform well above industry averages. Younger in age these cull cows again expressed more marbling and fat with a carcass weight advantage of 75 kilograms. Their MSA Index was substantially higher than the nation average.
Raff Angus – do their EBV's reflect them fairly?
It is well documented that for decades we have struggled with the way Breedplan has reported our herd.
In the late 1990's we had a bull client and major Queensland pastoralist phone us just days prior to our annual on-property bull sale. He said that he was delighted with the bulls he had purchased over past years – they handled the harsh western environment, they produced plenty of calves born easily which later performed, sold and bred well. However, he was having trouble justifying his purchases at a board level because our EBV graphs were not good enough – despite their actual performance. He withdrew from purchasing Raff Angus genetics.
Several years later, still confused with the reporting of our herd, we engaged a well-regarded consultant to spend the day on farm with us to advise. We showed him every animal that walked returning to the house for a coffee and general summary of his opinions later in the afternoon. We opened our Breedplan report and started with the first trait – Calving. At that time and, in truth not much on paper has changed since then, almost all of our cattle were reported as hard calving. We questioned why we are reported as such when in actual reality we statistically assist about 6% of heifers (rarely using 'true' heifer bulls) and almost never assist cows excluding abnormal presentations. He asked if we submitted calving data – we did. After several more questions he said quite frankly –
'Your herd does not have genetic linkage to mainstream. Because the genetics you use are higher growth, higher yielding with bigger carcass weights and are not genetically aligned to mainstream the "system" does not believe you when you tell it you only have slight calving issues. You assist about 6% - the system thinks you should assist about 20%. Because of your refusal to use mainstream genetics for linkage to solve this you will have to falsify and submit that you assist another say 16%. I know, he said, that this will unfairly report these animals but what it will do is then significantly correct and improve the remaining 80%'. The interest in conversation was lost at that point and the meeting was closed. His fee was $1,500.
Growth has always been easy to measure and accurate to report – they either weigh heavy or they don't.
Carcass EBV mid parent assumption vs Actual Carcasses hanging on the hook…
The above graphs are the true indicator of where Raff Angus genetics sit within the Australian Beef Industry.
Over the past 5 years since our business re-structure we have had hundreds of pedigree recorded animals processed. Within groups we have seen:
the lowest IMF EBV animal record the highest Marbling score
the Less Profitable graphed Index EBV animal return the highest $$ carcass value
the highest IMF EBV animal record the lowest MSA Marbling score
the leanest fat EBV animal record the highest carcass fat
high IMF EBV animals constantly have a lighter carcass and lower $$/head value
As a seedstock breeding program of 55 years dedicated to supplying superior genetics of Angus cattle to the Australian Beef Industry it is insulting to have our herd reported as Less Profitable by way of a graph generated by a computer when in reality our actual carcass data and clients' success reports quite the opposite.

Raff Angus Feedback Sheets from JBS & Greenham Tasmania Pty Ltd
7th Sept 2020 PRIME YEARLING STEER Carcass Feedback ~ full brothers to Sept 21st sale bulls
13th July 2020 PRIME YEARLING STEER Carcass Feedback ~ full brothers to Sept 21st sale bulls
1st June 2020 CULL COW Carcass Feedback
9th June 2020 CULL COW Carcass Feedback
22nd June 2020 CULL COW Carcass Feedback
29th June 2020 CULL COW Carcass Feedback
29th June 2020 PRIME YEARLING HEIFER Carcass Feedback
20th April 2020 PRIME YEARLING HEIFER Carcass Feedback
16th March 2020 PRIME YEARLING STEER carcass feedback
31st March 2020 PRIME YEARLING STEER carcass feedback
Feedback Sheet 26 July 2019
Feedback Sheet 17 January 2019
Feedback Sheet 10 January 2019
Feedback Sheet 3 January 2019
Feedback Sheet 13 November 2018
Feedback Sheet 28 August 2018
Feedback Sheet 23 July 2018
Feedback Sheet 24 May 2018
Feedback Sheet 13 April 2018
Feedback Sheet 18 January 2018