Queensland Country Life 24 August 2021
Raff Angus bulls made a welcome return to their former stamping ground at the family's previous Drillham property at Mundibulanga, for their first on-property bull sale since relocating to King Island five years ago. The 36th bull sale which was interfaced simultaneously with the Raff family's female sale held in Victoria, resulted with 103 bulls selling to a top price of $32,000 to average $12,000.

To view the full story go to https://www.queenslandcountrylife.com.au/story/7399365/raff-bulls-return-to-qld-to-top-at-32000/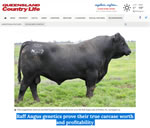 Commercial clients of Raff Angus are reaping the benefits of its strong carcase focus, with recent processing feedback confirming the stud's position as a leading supplier of high-performance genetics.
According to Meat & Livestock Australia figures, during the 12 month processing period from June 2020 to June 2021, 1,041,003 bodies of beef were processed nationally with no hormonal growth promotant, grassfed, either sex and an ossification average score of less than 230.

To view the full story go to https://www.queenslandcountrylife.com.au/story/7352021/raff-angus-genetics-prove-their-true-carcase-worth-and-profitability/?cs=6109
These were the complete group of spring born steers and represented the bottom 50% of all male calves born in that contemporary. With an average age of 21 months, they boasted an average carcase weight of 355kg. Pictured is one of these milk tooth Raff bred steers from the above consignment that yielded a carcass weight of 452kg with a Marble Score 4 and MSA Index of 67.51. He returned $3,273.32. To view further information click here…
>> For more News, go to our News Archive